facility
we offer our guests an experience
they can have nowhere else.
Every component of Satoyama Jujo, from the 13 guest rooms and the hot spring bath to the communal spaces and our restaurant, Sanaburi, has been specifically designed and curated to tell the 10 stories that form our core concept: food, architecture, textile, agriculture, environment, art, outdoors, relaxation, health, and gathering. Aiming to redefine luxury, we offer our guests an experience they can have nowhere else, against a breathtaking bucolic backdrop. This act of discovery, we believe, is luxury in the truest sense.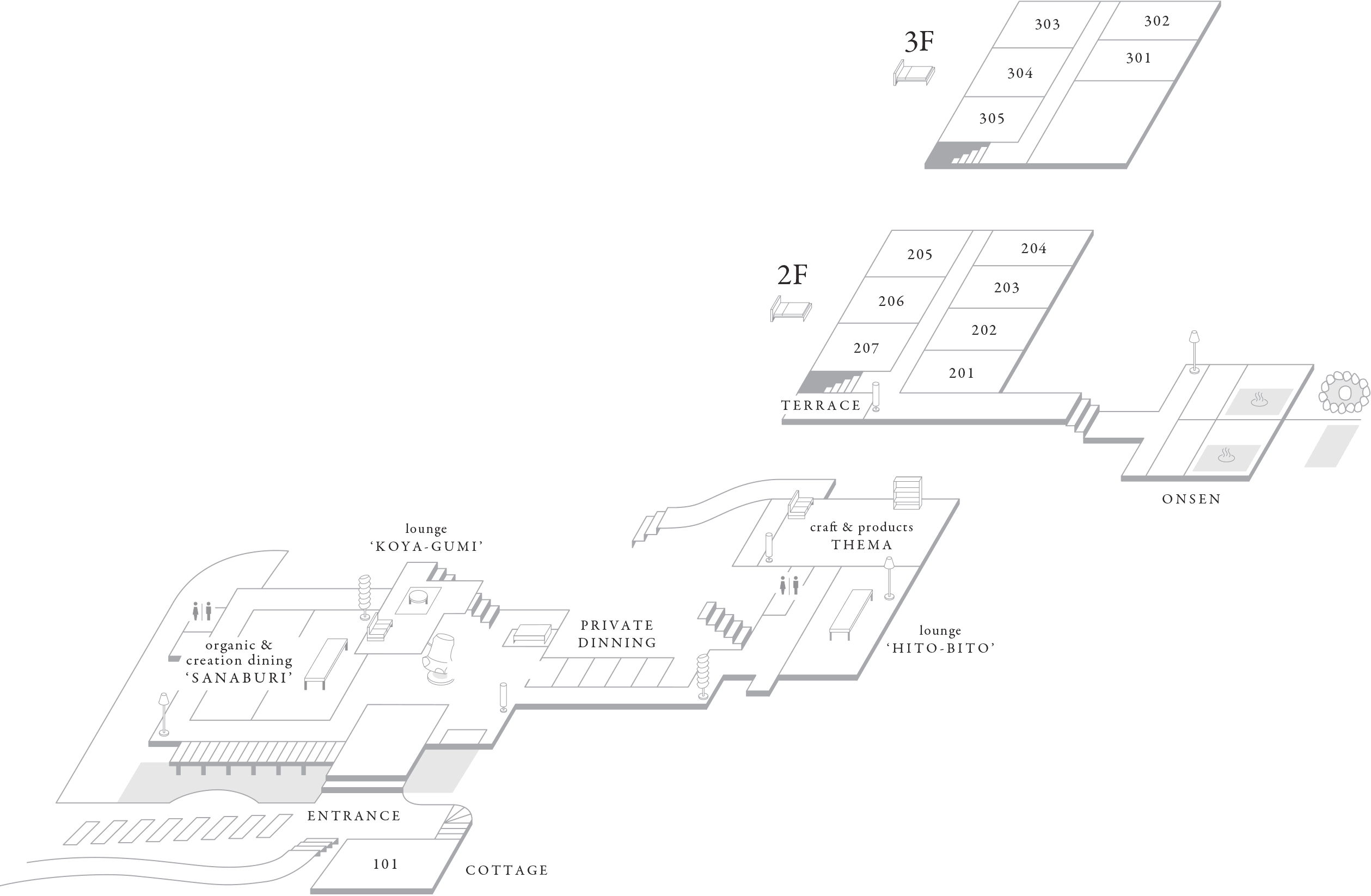 The name of our restaurant, Sanaburi, is a term that refers to the traditional feast held after the planting of rice paddies to pray for an abundant harvest and thank everyone who helped out. At Sanaburi, we respect the traditions and culture of this region, which is known for its snowy winters and delicious rice, all while offering a modern dining experience focused on organic, local ingredients and the fusion of styles of our three Food Creators—one who trained in a three-star Michelin Japanese restaurant in Kyoto and one who studied Ayurveda in India.
Most of our dishes are vegetable based, with no added preservatives, but some meat and fish dishes are also served. If you require a fully vegetarian or vegan option, please let us know when you reserve your room.
Our open-air hot spring Amanogawa affords stunning views of Mt. Makihata and the other 2,000-meter mountains along the Gunma-Niigata border. The surrounding area has been carefully landscaped to ensure no man-made structures are visible as you soak in the infinity pool-inspired bath. In 2014, the view was even ranked Japan's best view from an open-air bath. The natural spring primarily contains sodium-chloride and bicarbonate, making for a silky smooth bathing experience. In Japanese, Amanogawa means Milky Way, and if you're lucky, you may be able to catch a gorgeous view of the starry sky at night from the warm, therapeutic waters.
Thema is Satoyama Jujo's very own lifestyle shop offering a wide range of carefully selected items from furniture to tableware to foodstuffs. Did you fall in love with a piece of furniture in your room or the lounge? Would you like to take home a bag of our delectable rice? They are all available for purchase at Thema. (Please note that shipping is only available in Japan.) If you are renovating and serious about choosing designer furniture, you can also book a consultation with our Creative Director, Toru Iwasa. Please inquire when you reserve your room.
Hours:

For guests: 9:30-19:00
For single-day visitors: 11:00~17:00, weekends and holidays only. *The shop can be opened on weekdays if you make a reservation.